We look forward to welcoming you for a suggestive holiday during which you can spend time in the open, taste excellent cuisine, practice sport, discover the most beautiful tourist and cultural landmarks of Tuscany, or simply relax.
Casa dei Girasoli is just 1 km from San Gimignano, the famous medieval city of the "Beautiful Towers", a recognized UNESCO patrimony of culture and nature, which can be reached even on foot, with the advantage of a suggestive panoramic 15 minute walk.
San Gimignano offers many restaurants and pizzerias, pubs and bars, supermarkets and all types of stores for shopping and tasting the city's culinary specialties (cheeses, cold cuts, oil, honey, saffron, crostini, sauces, etc.) and excellent wines (Vernaccia and Chianti).
A nighttime visit to the city will lead you straight into the world of fables: suggestive lights illuminate the towers, making them appear immense and, immersed in silence, you will truly enjoy the medieval atmosphere and experience the traditions of the past.
Very close to the Casa dei Girasoli is Certaldo Alto, one of the most characteristic villages of Tuscany and home of the famous poet Giovanni Boccaccio. It will leave you breathless its charming medieval town perfectly preserved with its picturesque streets and countless views of landscapes. You can access the village going up the ancient and steep roads or through a comfortable and characteristic funicular.
Less than 7 km from Casa dei Girasoli is a large manège where you can discover the Tuscan hills on horseback.
Near Casa dei Girasoli you can discover lovely paths that are ideal for trekking or mountain bike riding or, also nearby, you can practice sports such as tennis, football and golf.
If you love walking, we suggest exploring the famous Via Francigena, the European communication routes' network built in medieval times, used by hundreds of pilgrims and merchants to travel from Canterbury to Roma: the road passes through San Gimignano.
You can organize excursions aboard vintage Fiat 500 automobiles or on the mythical Vespa and thus travel to small natural havens and extremely beautiful medieval towns.
Casa dei Girasoli is located in the heart of Tuscany, and the region's most beautiful tourist and cultural landmarks can be reached easily with day-trips. Here are some examples:
Certaldo: 9 km
Colle di Val d'Elsa: 15 km
Monteriggioni: 25 km
Volterra: 28 km
Siena: 35 km
Firenze: 45 km
Pisa: 75 km
Lucca: 80 km
Montalcino: 85 km
Pienza: 95 km
Montepulciano: 105 km
For lovers of rustic landscapes, particularly interesting areas are: the Classic Chianti area, circa 35 Km from Casa dei Girasoli, with the ancient towns of Castellina in Chianti, Radda in Chianti, Gaiole in Chianti and Greve in Chianti; the area of the Crete Senesi, circa 80 Km away, with its particular hills and marvelous Abbeys (such as the Abbey of Monte Oliveto Maggiore).
For guests who want to spend some time by the seaside, just 70 km away is the beautiful Tyrrhenian coast of Tuscany, with the large and fully equipped beaches of Versilia and its rich night life.
We are sure that you will take home something that will remind you of perfumes, colors, tastes and… the desire to come back.
Some things to know about San Gimignano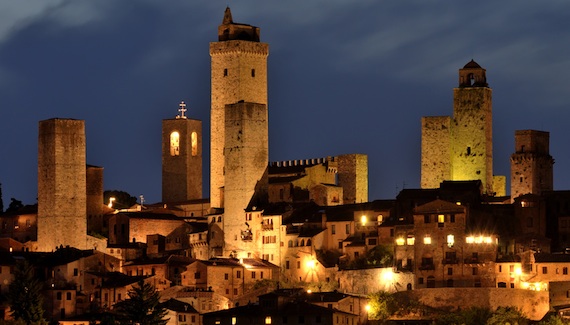 For the characteristic medieval  architecture of its historic center is a UNESCO World Heritage Site.
Is one of the best examples in Europe of urban organization of the municipal.
San Gimignano was built on a site inhabited by the Etruscans certainly, at least from the third century BC, as evidenced by numerous archaeological finds (especially tombs) in the surrounding area.
On the slopes of Poggio del Comune (624 m asl) are the ruins of Castelvecchio, a village of Lombard era.
According to tradition the name comes from the Holy Bishop of Modena, who would defend the village from the occupation of Attila.
San Gimignano is especially famous for its medieval Towers that still stand out on its landscape, which have earned him the nickname of Manhattan of the Middle Ages.
In the golden age of the City, there were 72 Towers, in 1580 there were 25 Towers and today there are only 16 Towers.
The oldest is the Rognosa Tower, which is 51 meters high, while the highest is the Torre del Podestà, also know as Torre Grossa, of 54 meters.